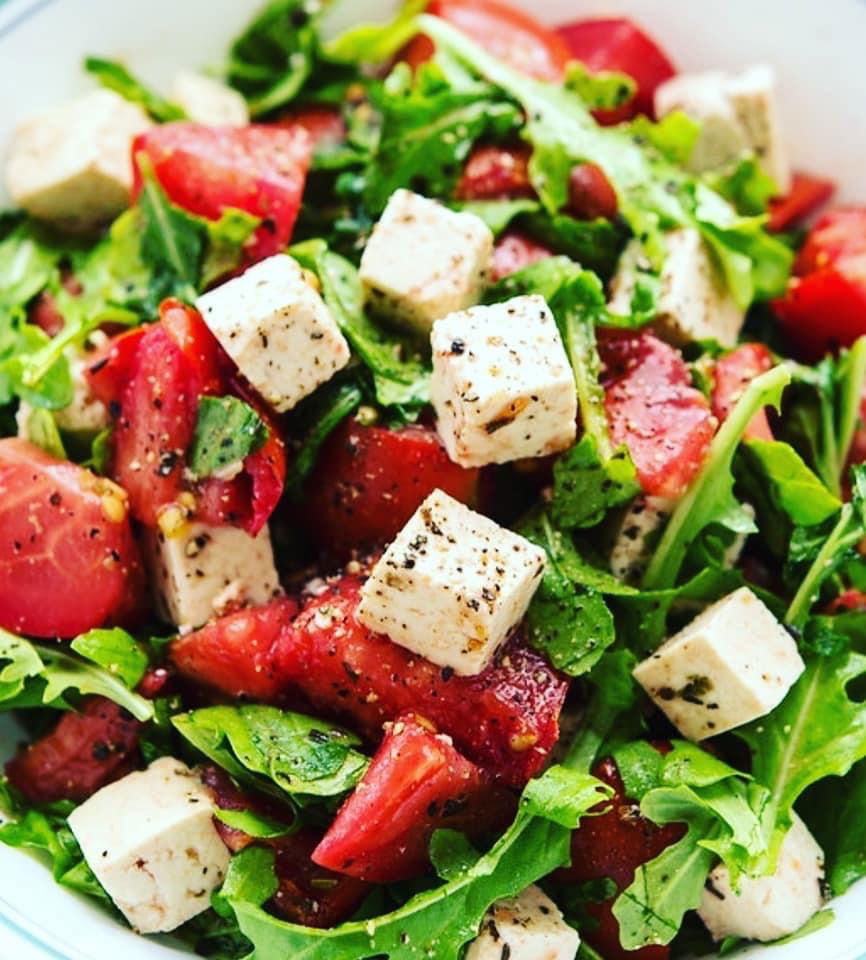 Ingredients
14 ounce Block of Organic Extra Firm Tofu Drained and Rinsed
1/2 C. Water
2 1/2 T. Coconut Vinegar
1 1/2-2 T. Sea Salt
2 T. Olive Oil optional
1 tsp. Dried Basil
1 tsp. Dried Oregano
4 C. chopped Heirloom/Plum/Champion/etc. Tomatoes
3 C. Baby Arugula
1 T. Fresh Lemon Juice
Freshly Ground Pepper
Pinch of Coarse Sea Salt optional
Instructions
Take your block of tofu and wrap it tightly in a clean dish towel/cloth. Place it on a plate and stack some heavy (but stable) objects on it to press the moisture out. Leave it pressed for 20-30 minutes.
In resealable container or bag whisk together the water, sea salt, coconut vinegar, olive oil, basil and oregano.
Take the pressed tofu and cut it into 1/2″ cubes, then place it in the marinade. Marinate it for 2-8 hours depending on how salty you'd like it to be. Stir it around or flip container over every couple of hours.
Once the tofu is done marinating, drain it of the excess liquid and toss it together in a large bowl with the tomato and arugula.
Drizzle the lemon juice over the top of the salad, along with some cracked pepper. Chill for 30 minutes and serve!
Notes
If you don't have coconut vinegar, you can replace it with 1 T. apple cider vinegar and 1 T. White Miso Paste.