My dream house is an old house with lots of character, nooks and crannies and secrets! I bought my house 5 years ago. 4 bedrooms and 3 baths, dining room, parlor, sitting room, kitchen with a butler's pantry and an unfinished basement. Both my kids have their own rooms, my husband originally set his office upstairs in the extra bedroom. It's really a large room with no closet, maybe a sitting room or TV room, it has no specific door, open to anyone walking upstairs. It's also the biggest room upstairs. After a while my husband who stays up late moved his desk and computer downstairs to the sitting room so he didn't wake us. He left his inventory and supplies up in the old office, personally I did not want my first floor to become messy. These items are for sale and not to be played with or picked up and handled by family or guests.
After I started working from home I felt I needed space. Not a lot of space, just a spot to put my things down and work. I set up another computer in the sitting room on the first floor. My desk became the dropping ground for kids school work or extra printouts and used up markers. I would go to work and there would someones used cup or trash from a snack and frankly I would rather work from my phone at that point. I also didn't want my sitting room being used as an entire office. Sure, my husband was in there but there are no doors its an open room off of the living room when you first walk in.
The office upstairs became an idea. That room at this point became the ironing/school uniform storage/workout bench/husbands supplies/odds and ends. I had been doing life coaching through emails and phone calls but I wanted to start taking video calls. I have learned that while yes people want help and yes people want to get information off their chests its hard to do that through email, with my life coaching I want to be able to see my clients, I want my clients to see me. Knowing there is a real person on the other end makes it a little easier to bare your soul!
As I am sure you all know after reading a few of my articles I love to save money. I like to do things myself and save a few bucks. I am not the most creative and definitely not the most fashionable, but I know what I like. I still needed the ironing space and I still needed the uniform storage. My husbands stuff mostly was packed in one corner, so I chose my corner I wanted to transform. I looked around my house for furniture low that could fit in my weird sized corners (I forgot to tell you that two corners of the room are slanted).
I started with a desk that is an original antique vanity. I took off the mirror and tightened up the legs, as of today I can't bear to paint it, but never say never. I had the remaining furniture arranged in the room so I had a little empty space. I put the uniform storage in front to act as one wall and an old dresser suffice for another wall.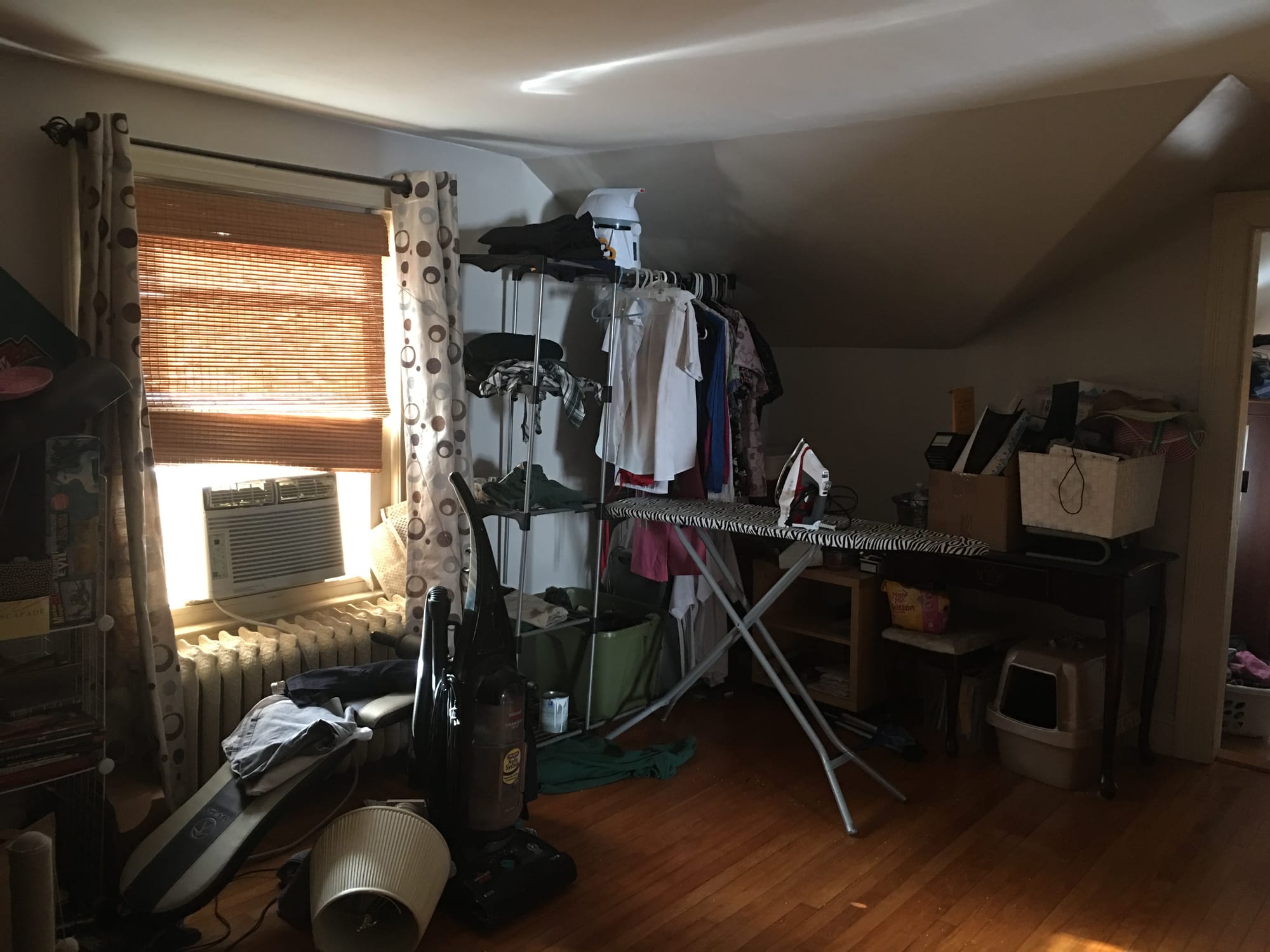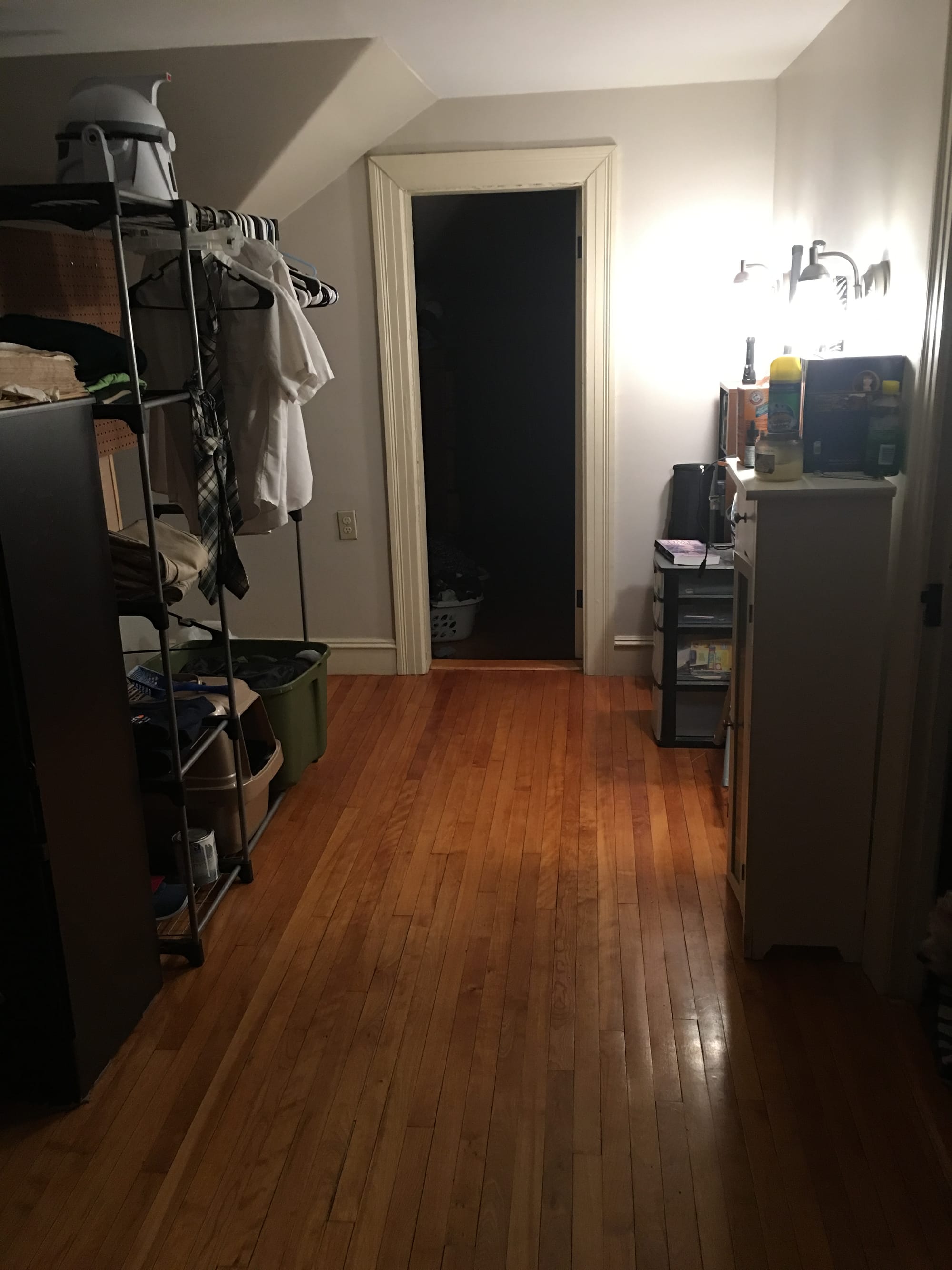 The first picture is what my messy room looked like, the second picture is after rearranging the furniture. Even with moving the furniture I still have a big enough space to walk through to get to the other room and I can pull out my ironing board on the right. Plus creating these "walls" saved me actual construction and I gained a lot of privacy while still being able to hear what is going on with the kids or animals.
I used two shelves that were already in that room. I primed them both with a spray paint primer with my left hand, because I am currently nursing a right shoulder injury and then I had my loving husband paint them for me. I chose grey thinking I could match any color to it when picking out accents.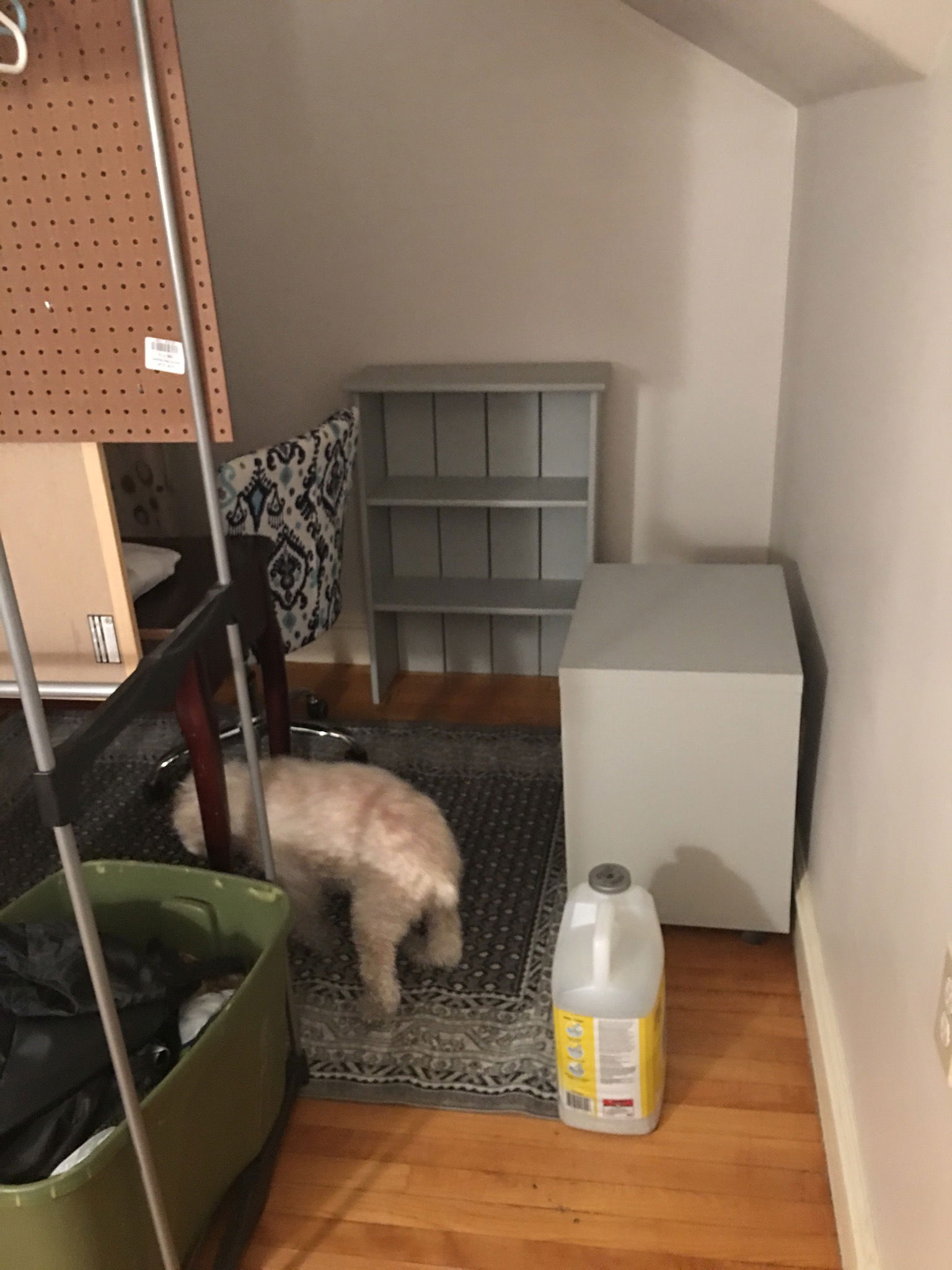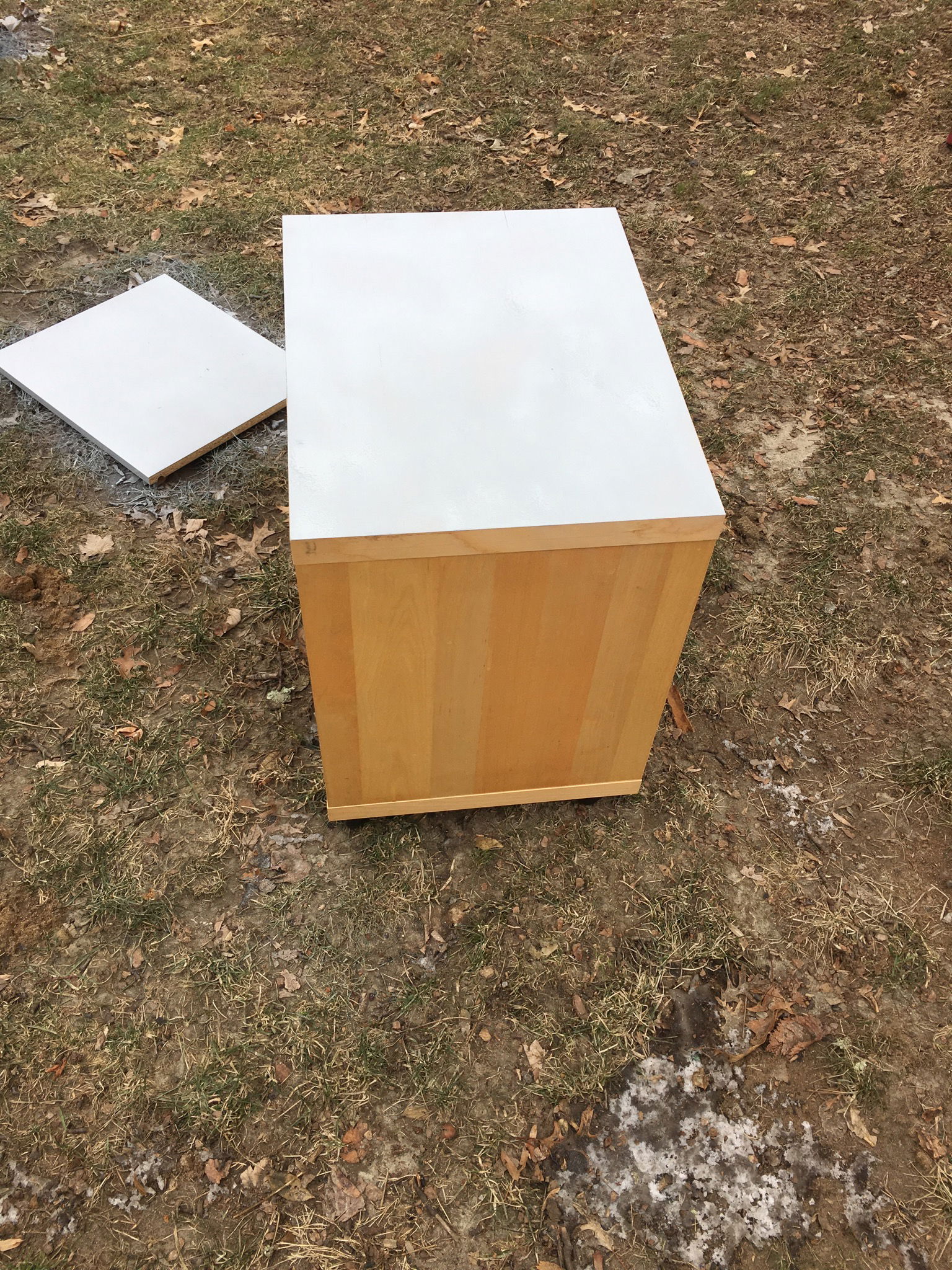 On the back of the uniform storage rack I had my husband put up a peg board and then a bulletin board. I haven't finished everything I want to do, but I know where I am heading. I love looking at other peoples ideas to give me an idea of what I want. I am so unique I never see something and say "I want it all." I am a little bit of that and a little bit of this.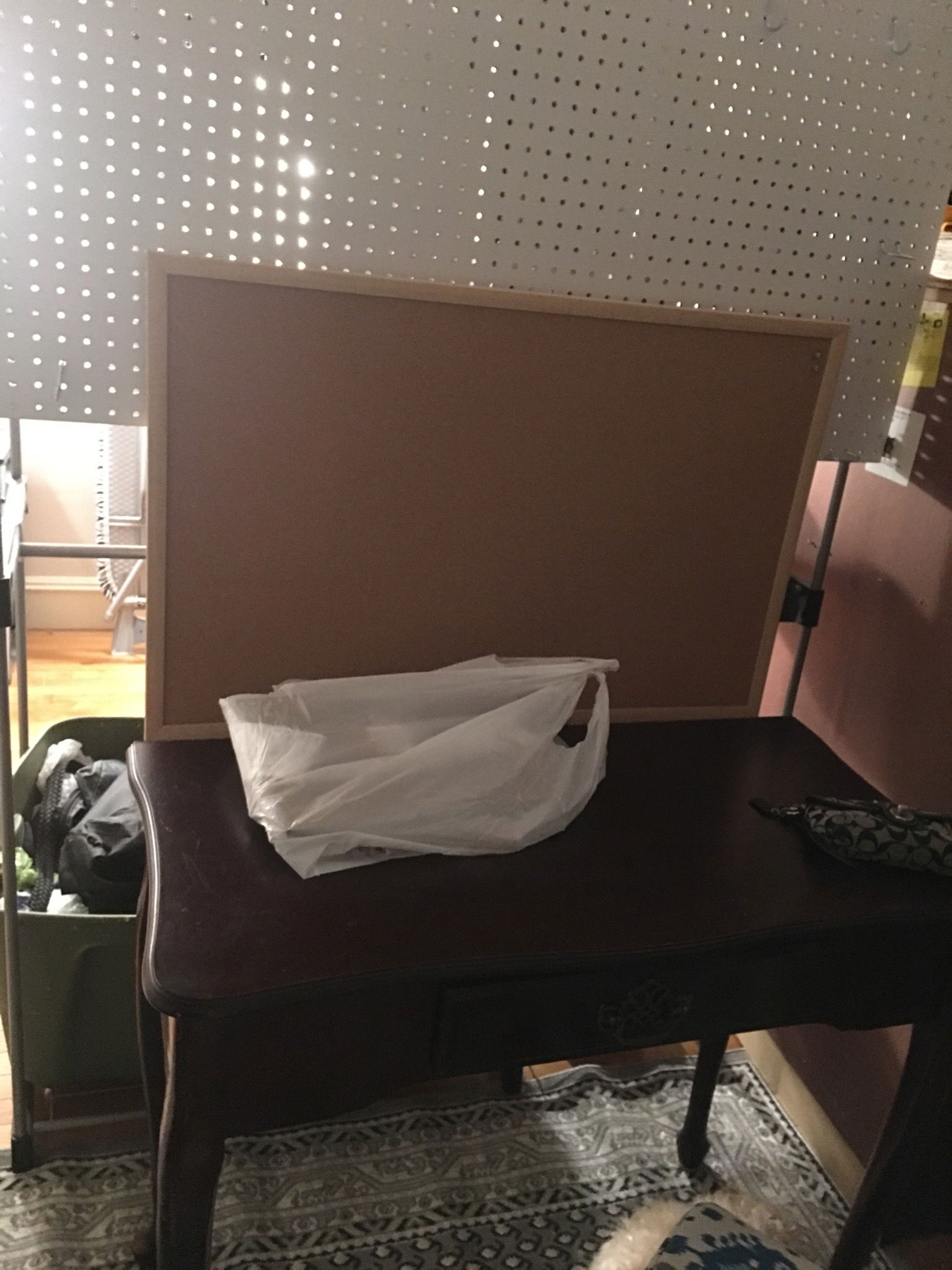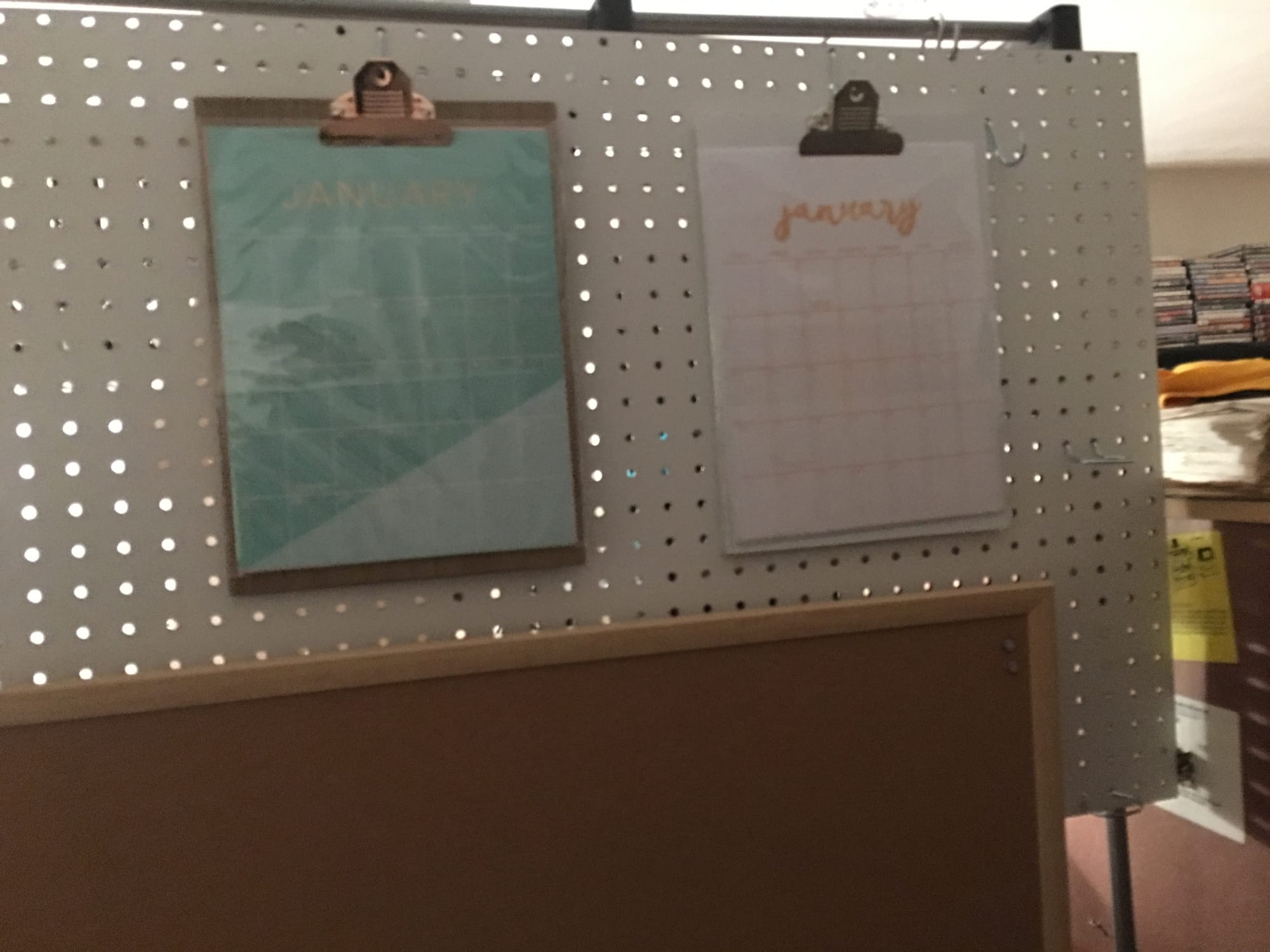 I started finding little accents to fill up my shelves and walls. I got a rug from a clearance rug website esalerugs.com. I found the chair at Burlington Coat Factory. I saved so much looking out for deals.
Look below to see the transformation. If you see something you like and you want to know where I got it from send me a message. Hobby Lobby, Christmas Tree Shops, Target just to name a few places is where I got most of my things! Not bad for a cute little office that does exactly what I need.