Either you're limited to space or you just want some order with your food. Start at the dollar store and get tons of baskets and food storage containers. Organize your pasta and rice together and put in food storage containers. Use soda can holders for your canned food, separate by soups and veggies and gravies, etc. Put all your snacks together on the back of a door, easy to grab access. There are some affiliate links below to help out with designing your pantry!
Keep all your seasonings together, oil and vinegars and your baking goods, all put in separate baskets (if an oil or vinegar opens up it spills only in the basket, not over all your other food). Place onions and potatoes separately in their own baskets. There are some really cute islands that help organize things, but if not use shelf organizers to maximize your space. Always place tall items in the back so you can see them and can each the shorter things in the front.
Step by step:
Use Clear Storage Containers
You might love the brands you use, but do you want to see their various packaging every day? One of the quickest (and simplest) ways to organize your pantry and make it look neat and tidy is to transfer food items into matching jars. Items like flour, seeds, nuts, small snacks and dried fruits look fantastic when displayed in clear glass jars. This is a relatively easy home organization project made even prettier by using paint pens to label the glass jars. Of course, you can always use your trusty label maker or a small index card to label the jars as well.
The other nice thing about transferring food to glass jars is that they are now pretty enough to display on open shelving or on your countertop.
Install Door Storage
The inside of the cabinet door is the perfect storage space for the items that you use often and need quick and easy access to. Think about storing anything that's not too bulky on the inside of the door (so as not to weigh it down and make it hard to open). Examples: spices, boxes of aluminum foil and freezer bags, school snacks, cooking tools and more.
This is a very easy DIY project to tackle on a weekend or even a weeknight. All you need is an over-the-door storage solution (a shoe rack works nicely) and a few tools.
Chalkboard Pantry Door
Kids love chalkboard paint! And you will love the ease of jotting down your grocery list on your pantry door. The beauty of this system is that other people in your household to jot down their list here, too.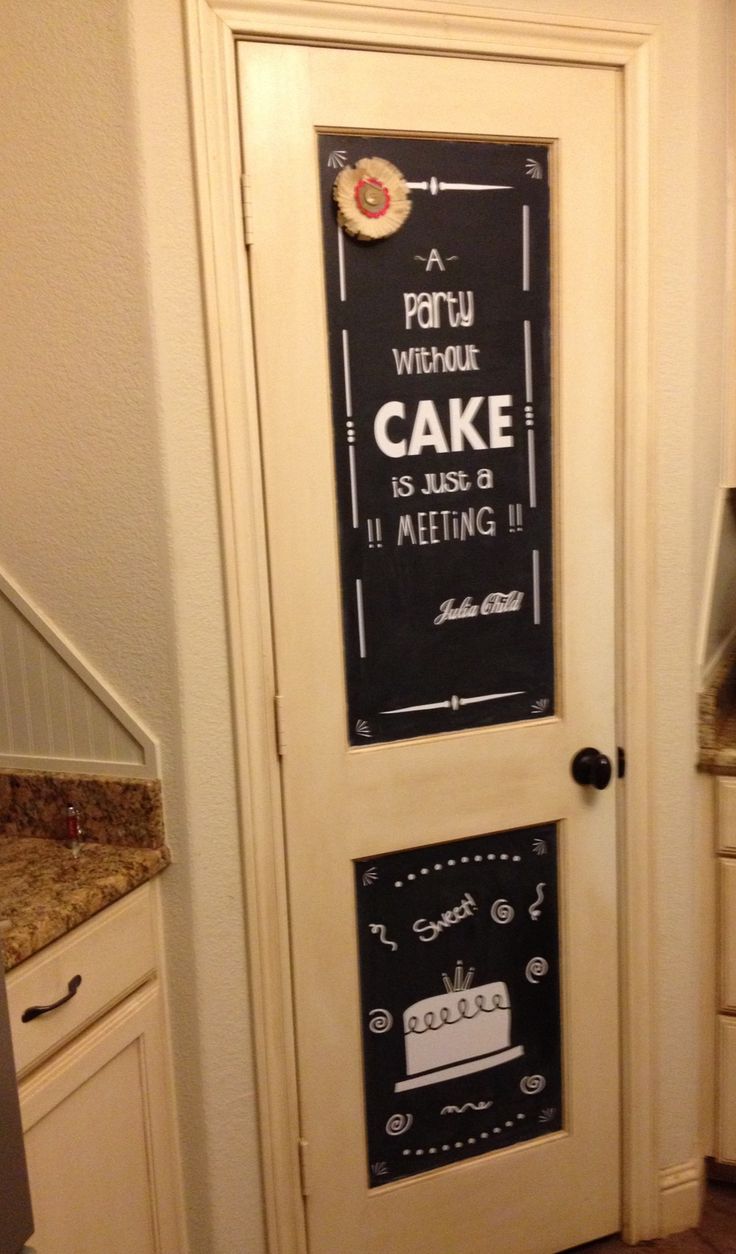 This is also a great place to write out reminders for people or special messages like "Happy Birthday!"
Use Clear Plastic Bins (I paint mine, I love color)
The great thing about using clear plastic storage bins is that you can see everything without having to root around at the back of your pantry. They also make grouping items together easier. You can choose to group similar items together, or group items that you use together. I paint mine only because I love color, but it really makes sense to have clear ones!
Try storing after-school snacks, tea bags, nut butters, and crackers, or grains together.
Tip: Even though you can see everything, it's still helpful to label your containers.
Use a Cart in a Small Space
If you're working with a small space, here are two ways to use a simple cart to make your pantry more functional:
If you simply do not have a pantry in your kitchen, a cart can hold all your pantry essentials in a very organized (and mobile) way.
If you have a small pantry, move the items you reach for most often into a cart. This allows you easy access and frees up more storage space in your pantry.
Use Your Cabinets
When people think of a kitchen pantry, they think of a separate small space off the kitchen to store food. But you don't need this to organize a pantry. You can use any extra drawers or cabinets you have to create a storage space. Choose a set of bottom or top drawers and label them by the food you're storing in them. Now you have a pantry!
Use a Pegboard
Pegboards are a favorite tool of professional home organizers for a reason: Pegboards make everything easier to reach while maintaining a neat and tidy look in your kitchen. You can hang cooking tools together and have them look organized without having to rummage around in a kitchen drawer. They also free up counter space.
Pegboards are affordable, go with any type of decor and are easy to install. Think about installing one directly into your kitchen pantry, next to your coffee pot or on the inside of your pantry door.
Hide Your Microwave
As much as you may love your microwave, it's an eyesore. Use pantry cabinets to hide it. This way it's still convenient, but you don't have to look at it every day. To do this, make a hole in the back of the cabinet to connect the microwave plug to an outlet.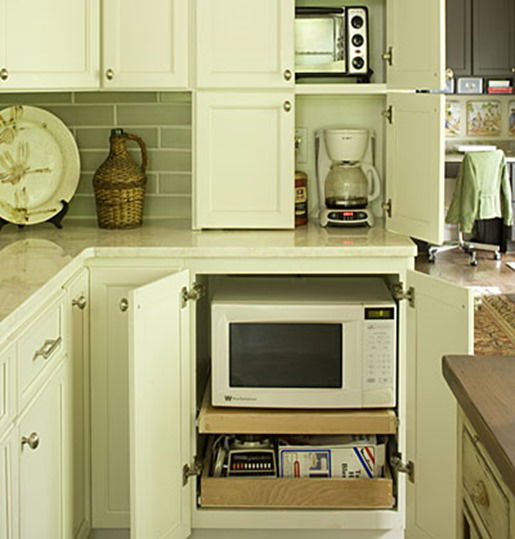 Install Open Shelving
If you're working with a small, narrow space, open shelving makes sense. You may not have room for doors and hinges! If you decide to go the open shelving route, a few tips to follow:
Keep your walls and shelving in neutral colors. Grey, white and light blue work particularly well in a small space. A coat of paint in the right color is like turning a light on in a room.
Use matching or similar jars, baskets, and bins to hold your pantry items. This is pleasing to the eye and makes everything appear neat and tidy.